A short insight into how KSA WATS's partnership with Speakol proved mutually beneficial.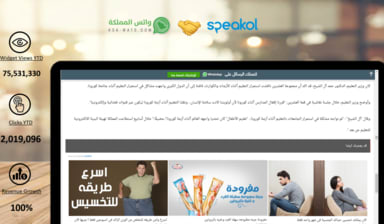 Testimonials:
"We love that Speakol considers publishers their "Partners in Success." Speakol is very credible, something that we do value above all else. We trust their credibility and work ethic and never had any reason to doubt their integrity. We value the support of our account managers and their hard work. We have worked with Speakol for years, and we look forward to working with them always".
Publisher:
KSA-WATS is one of the most prominent Saudi publishers covering news and entertainment of interest to the Saudi reader. It aims to reach millions of Saudi users, generally between the ages of 18 to 65, from all walks, and enrich Saudi media by covering various topics including royal declarations, the latest news, health, technology, finance, business, arts and music, jobs, and videos, among many others. KSA-WATS also prides itself on reaching their readers via WhatsApp in a quick, efficient, and engaging way.
Become a Publisher with Speakol
Challenge:
KSA-WATS wanted to monetize its online domain, boost its revenues, and increase its ROI. It also wanted to avoid all the hassle of dealing with independent advertisers and collaborate with a partner to fill its inventory.
Strategy:
Identifying KSA-WATS's primary needs, Speakol devised a work plan. First, Speakol assigned dedicated Account Managers to help the publishers' team and reassure them that their interest is our top priority. Then, we walked the team through our publishers' dashboard to monitor their numbers and revenues day by day. We also marketed their domain to our advertisers to ensure that their inventory is always full and profiting.
Results:
Once KSA-WATS added the Speakol widgets to their domain, the publisher was very pleased with the 24/7 technical support, which presented various advertising solutions, and products to publishers to help them achieve the best possible results.
In a year, KSA-WATS's revenues have remarkably increased by 100%. This means that the profits have doubled and that Speakol has helped increase its page views and user retention.
Numbers:
Revenues increased by 100%
Page Views have reached a high of 5,255,340 monthly.