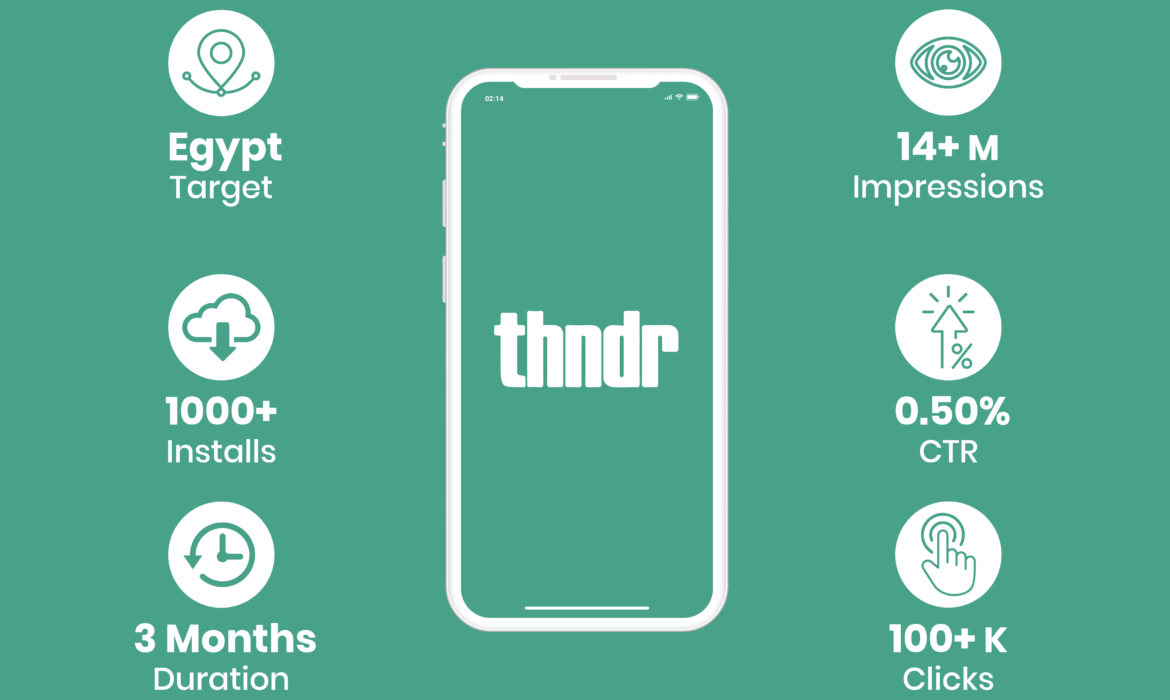 For decades, financial markets have targeted large established institutions. It has always been easier and more affordable to reach out to entities with strong financial standing, rather than individuals, for securing individual customers, willing to contribute with small ticket sizes, required a substantial marketing budget and big operating teams.
The Inspiration:
Wanting to bring the financial market to the average Joe, the Thndr team capitalized on technology to drastically reduce the cost of acquisition and reach millions of individuals through a sophisticated application with a smooth interface. By catering for individuals, democratizing access to financial services by availing different investment projects and services, Thndr challenges the established financial institutions and markets, ending their monopoly. It aims to offer people financial independence and invests in educating and empowering its users ending the exclusivity created by big players in the past.
"Invest…Discover…Learn":
Today, Thndr grants individuals access to the Egyptian stock market licensed by the Financial Regulatory Authority (FRA). Users can now set up and fund their accounts in a few steps through a seamless account opening process with no brokers or branches involved. With commission-free trading, they can also invest in the Egyptian stock market and Homegrown Stocks of companies they know and love with unlimited access to the latest news and market data. Thndr mainly offers investment products (stock market) and has recently launched investment in mutual funds.
Marketing Efforts:
Thndr is diligently working on telling its story, gaining more visibility, and sharing the user journey with potential customers to market its brand. The team has also experimented with digital and social media advertising to reach more potential customers. Despite the low cost of download and the high volume when marketing on social media, the team realized that they need a more defined targeting strategy to reach users with a specific mindset and knowledge, concluding that securing quality leads will significantly impact their business. That is when the team decided to explore the world of native advertising.
Partnering with Speakol:
Having an extensive publishers' network of more than 500 premium websites in the MENA, Thndr turned to Speakol to help them realize their marketing goals. Speakol was able to boost Thndr's brand awareness and exposure by displaying its ads on specific economy and finance publishers. Speakol's account managers also worked with the Thndr team to refine the targeting process by experimenting with different formulas, assessing the performance, and optimizing the campaigns at every stage. The two teams worked hand in hand to target specialized websites and narrow and widen the targeted audience based on the seasons and competition. Thndr also experimented with various creatives, which resulted in higher numbers of installs and submitted forms and decreased CPA (Cost Per Acquisition).
The detailed insights and reports gave the team insight into which visuals and creatives, titles, and CTAs have engaged and converted users. These insights also enabled the team to optimize their resources, pivot and rethink their marketing strategy when needed, and empowered them to scale up and expand even further.
Collaborating with Speakol, Thndr secured more qualified users and decreased the CPL by 50%.
Speakol also granted Thndr a vast reach across the MENA to tell their story, convey their message, and win over more interested users.
Ad Campaign Details:
Ad Type: Recommendation Ads
Impressions: 14 Million
Clicks: 100 Thousand
CTR: 0.50%
Installs: 1,120
Submitted forms: 135
Target: Egypt
Duration: 3 months
Advertise with Speakol:
Marketing your startup through native advertising has proved successful in reaching out to engaged, interested users, securing many qualified leads, increasing sales, and maximizing advertisers' profits.
So whether you want to promote a startup, an NGO, a real estate business, an automotive brand, banking, e-commerce, or any other sector, Speakol has a diverse portfolio to serve your every need.
Don't believe us! Try us out yourself.