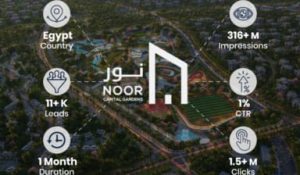 One of the most successful businesses in the world of construction is the Real Estate industry. Real Estate has long been a core economic sector and investment choice in the MENA. Realizing its importance in shaping economies, acting as a catalyst for growth, and diversifying the economy, many governments champion real estate development projects and establish ambitious mega-cities and urban developments.
Decades ago, newspaper ads, television ads, and billboards would have been the dominant marketing channels to promote a company's real estate project; now, companies have to look for other media channels as customers spend more and more time online. Faced with the challenge of raising brand awareness, driving interest in their properties, generating more qualified leads, and increasing sales, real estate companies have looked towards digital and native advertising to reach potential customers.
About Noor:
Noor is the newest TMG real estate project. It presents a new sustainable vision, "Green Smart," employing the latest techniques in designing integrated cities using the latest technologies.
Noor is an eco-friendly city spanning over 5,000 feddans. Three top American design firms have laid down the grand design: SWA, SASKI, Perkins Eastman, and BCG, representing a new 21st-century city model. The design provides modern housing with an emphasis on contemporary community lifestyle in a safe, healthy, sustainable environment.
What are the challenges of marketing Real Estate?
Marketing real estate projects is not always an easy feat. The challenge is finding qualified leads. If you manage to secure converting qualified leads, you will have to pay an obscene amount per lead, which means your conversion rate will be low and very expensive. Not only that, but the challenge is also targeting, reaching, and engaging Egyptians and potential clients living in Egypt and other countries, including the GCC, UK, Canada, and Germany.
So, how did Noor capitalize on native advertising to drive more sales?
Noor's marketing team sought to collaborate with Speakol to navigate the world of digital advertising and capitalize on all the benefits of native advertising. Speakol's dedicated account managers enabled Noor marketeers were able to run optimized targeting campaigns.
What are the strategies employed?
They created and ran 22 campaigns using the same visuals using localized content to appeal to users in different countries.
They also created campaigns with multiple CTAs to include visiting the website, booking an online meeting with a sales representative, seeing a 3D version of apartments to engage as many users as possible.
Benefiting from Speakol's top-notch targeting options, the team refined the targeting audience for the ad campaigns.
Location Targeting: Targeted Egyptian websites in Egypt and the GCC, MENA, Europe, and Canada to reach out to Egyptians living abroad
Publishers Targeting: Targeted some of the most premium publishers in Egypt, GCC, and MENA, including CNN Arabic, MSN Arabia, Youm7, Al-Masry Al-Youm, Yallakora, Filgoal, Sabq, Okaz, Elbawaba News, and Khaleej Times.
Contextual Targeting: Targeted specific categories to display the ads alongside and excluded others. They chose to target categories that their potential readers would probably be browsing, like real estate and business and finance.
4. Added the Speakol Pixel Code to track conversions and other actions to better assess the performance of the campaigns.
5. Based on the detailed insights of the Speakol dashboard, the team was able to refine the targeting strategies and redistribute the budget allocating the highest budgets to the best performing campaigns.
As seen in the above images, the team was able to see which devices converted the most and where their interested audiences lived.
After implementing all these refined targeting strategies, the team started to reap the fruits of their hard work.
Results:
Duration: 12/06/21 -12/07/21 (a month)
Impressions: 316.14 M
Clicks: 1.65 M
Conversion Rate: 1%
Leads: 11K+ [15 buyers in one day]
If you are trying to market your real estate project, we do suggest you explore the world of native advertising. The Real Estate industry is one of the most booming industries on the Speakol network. Real Estate ads have been displayed more than 240 million times, securing over 1.1 million clicks. With a reasonable CPL, our customers have secured thousands of qualified leads, which significantly increased their sales and maximized their profits.
And, whether you want to promote a real estate project, an automotive brand, banking, e-commerce, or any other sector, Speakol has a diverse portfolio to serve your every need.
Now is the time to try native advertising.