Understanding How Hyundai Gained From Native Advertising Through Speakol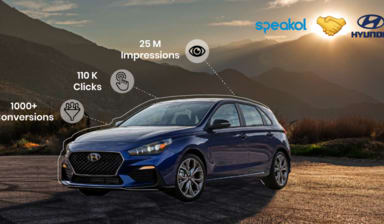 Every company has a goal, it could be a long-term one or a short-term one, yet where there is a goal, there is a game plan. Some companies at a specific time will realize they need to modify their brand positioning or persona, maybe crack into a new market, others look to increase profit margins, while some have the need to strengthen their brand awareness.
Hyundai, one of the most well recognized automotive brands in the world is no different. With a well-defined and clear goal, it started building it's game plan through partnering with Speakol to capitalize on the world of Native Advertising, helping it continue to grow the business. So, who exactly is Hyundai? What was the problem? How did we get it done?
You know the name, but how well do you know Hyundai?
To shed some more light on the brand, The Hyundai Motor Company, generally known as Hyundai Motors, is a South Korean automotive manufacturer based in Seoul. Founded in 1967, Hyundai operates one of the largest integrated automobile manufacturing facilities in South Korea, with an annual production capacity of 1.6 million units. The company employs around 75,000 people worldwide, selling its products in 193 countries. The company creates exceptional automotive value by blending safety, quality, and efficiency.
So what was the problem?
With the competitive automotive scene, Hyundai wanted to maximize its exposure to reach new people, expand its clientele to get more qualified leads, and boost acquisitions. Attempting to navigate the world of native advertising, the company was in a fix; it either succeeded in raising brand awareness while acquiring no leads or acquiring low-cost leads and failing to raise brand awareness and secure wide exposure.


How did Speakol fix the situation?
To help guide them and optimize resources to achieve their marketing objectives, Speakol suggested Hyundai runs a campaign to better assess the performance. The campaign was a massive success driving millions of impressions, tens of thousands of clicks, and hundreds of conversions at a relatively low cost. Hyundai decided to invest more and run a full recommendation ads campaign targeting Egypt in July, and the results exceeded their expectations.


And the results?
The recommendations ads campaign was seen by over 25 million people, generating more than 110 thousand clicks and hundreds of conversions at a cost-effective budget.
Hyundai is one example of many companies and brands that have risen above today's challenge by employing native advertising and partnering with Speakol.
It doesn't matter the size of your firm or the type of your product/service, Speakol has your back.
Don't believe us? Try us out yourself.